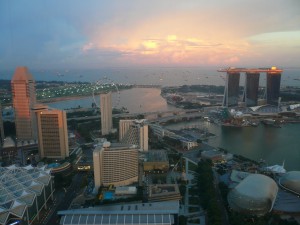 Background
During my years as an international entrepreneur I noticed a lack of interaction towards my company from Swedish companies within the design and lifestyle segment which was our focus. I was told about that many small and medium enterprises in Sweden were not interested in looking into new markets.
For me, this kind of inertia can be devastating for a company in the long run.
From this point of view, the idea of starting to share my knowledge and experience about the importance of being curious and see possibilities for a company, and for a manager.
I saw a chance to be able to help other entrepreneurs that has"got stuck" in the work of moving ahead towards new goals, by using my competence within business development. To build up the spirit within SME's to continue moving forward towards greater earnings and adventures.
I got a hint from our ambassador in Singapore to write and tell about my experiences as an international entrepreneur, which I have done. At the same time this opened my eyes to help the mentioned industry start to look at international markets in a new way. These experiences combined with my academic education triggered me to once again start my own company, Jonas Ericsson Generating AB.
Bakgrund
Under mina år som internationell entreprenör märkte jag en avsaknad av interaktion till mitt företag från framförallt svenska företag inom design och livsstilsbranschen som var min huvudsakliga näringsgren. Jag fick höra talas om att många svenska små och medelstora företag inte var intresserade av att se på nya marknader, vilket för mig som magister i internationell handel, kan vara förödande för ett företag.
Här föddes en idé om att dela med mig av mina kunskaper och erfarenheter om vikten av nyfikenhet och att se möjligheter.
Jag såg chansen att kunna hjälpa företagare som har "fastnat" i sina hjul med att gå vidare mot nya mål, genom att använda min kompetens inom affärsutveckling. Att få små och medelstora företag att vilja gå framåt.
Jag fick en propå från vår ambassadör i Singapore att skriva och berätta om mina upplevelser som entreprenör, vilket jag gjort, samtidigt som det öppnade upp mina ögon för att hjälpa nämnda bransch att se internationella marknader på ett nytt sätt. Mina erfarenheter tillsammans med mina akademiska kunskaper i ämnet, sporrade mig att sätta igång mitt företag; Jonas Ericsson Generating AB.