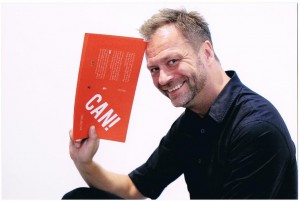 Jonas Ericsson was born in Norrtälje, Stockholm, Sweden. During his working years with business development in fashion and lifestyle companies, he developed a sharp sense and firm grip for the retail industry. Having worked for Giorgio Armani SpA during the last three years of his recent career, it provided him with valuable experiences. It incorporated his strong ability to manage, monitor and market Giorgio Armani and the Emporio Armani establishment in Sweden.
With his insatiable need to achieve greater heights, he enrolled himself into Stockholm University for his Master of Science in International Business Administration and Economics. To push himself further, Jonas Ericsson pursued his Master studies at National University of Singapore majoring in marketing, brand management and consumer behaviour. His master thesis related the value of design and the results of design investment in business.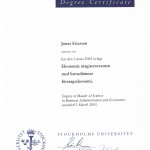 This exposure on an international level thru work and studies gave him more in-sight to the intricate design business.  While pursuing his studies in Singapore, Jonas realised an absence of Scandinavian brands or, rather, a non-appearance of an outlet to introduce/represent Scandinavian brands and lifestyle. Therefore, equipped with both the knowledge and experience, Jonas Ericsson was now set to open a Scandinavian lifestyle concept company, S T Y L E : N O R D I C   P T E.  L T D. which offers a range of contemporary furniture, home accessories and fashion labels.
After almost six years in Singapore, and the success with his company and the knowledge he built up with this experience, Jonas decided to move on and back to Sweden for a new project, entrepreneurship. He has sold the majority of his company in Singapore and will now start to write a book and to have talks and other missions regarding design, export and entrepreneurship, where he can share his broad experience about business development and international businesses to a wider group.
This company is the fruit of that idea
———————————————————–
Jonas Ericsson är född i Norrtälje, Stockholm, Sverige. Under hans tidigare arbete med affärsutveckling inom mode och design företag, utvecklade han ett starkt sinne och handlag för detaljhandeln. Hans arbete hos Giorgio Armani SpA gav honom mycket kunskaper och värdefulla erfarenheter från ett internationellt företag. Det innefattade hans goda förmåga att leda, utveckla och marknadsföra Giorgio Armani och Emporio Armani konceptet i Sverige och Skandinavien.
Med hans omättliga behov av att uppnå större framgångar,  registrerade han sig på Stockholms Universitet för sin magisterexamen i företagsekonomi och internationell handel. För att driva sig själv ytterligare ett steg, tog han in på National University of Singapore och läste där marknadsföring, varumärken samt konsumtionsbeteende. Hans magisteruppsats tog upp området om värdet av design och resultaten av designinvesteringar i Svenska företag.
Exponeringen av sig själv på en internationell nivå genom arbete och studier gav honom än mer insikt i den invecklade designindustrin. Medan han genomförde sina studier i Singapore, upptäckte Jonas en påtaglig avsaknad av Skandinaviska varumärken, eller rättare sagt, en nästan total frånvaro av en handelsplats för att introducera och representera Skandinaviska varumärken och dess livsstil. Utrustad med både kunskap och erfarenhet, satte därför Jonas Ericsson upp det Skandinaviska designföretaget, STYLE:NORDIC PTE LTD, 2005, som erbjuder en helhetslösning av moderna produkter inom alltifrån möbler, mode och accessoarer till både hem och offentlig miljö.
Efter nästan sex år med en fantastisk utveckling av sitt företag och sin egen potential bestämde sig Jonas för att gå vidare med ett nytt projekt, entreprenörskap. Han sålde vidare majoriteten av sitt företag och har nu kommit tillbaks till Sverige för att skriva en bok om ämnet och få tillfällen att dela med sig av sina många och breda erfarenheter inom affärsutveckling och internationell handel till en större grupp.
Jonas Ericsson har goda referenser och kontakter i sitt nätverk gällande hans arbete och
erfarenheter från utförda projekt. Han delar gärna med sig av dessa på förfrågan.